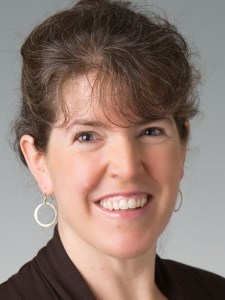 Melanie Wahlberg will be presenting her talk, "Never Alone: How Spiritual Ideas Work in Us" on Saturday, October 26th at 1:30 pm. This event will be hosted at the Upper House, in the Hippodrome Room, located at 365 E Campus Mall, three blocks east of the Christian Science Organization building. All are welcome; come as you are!
"It would be great to feel confident about whatever we face, instead of feeling stuck or alone," writes Melanie. "In this talk, I discuss what I've found helpful in connecting with God, the infinite Mind, who provides the ideas that reveal the solutions we need, that wipe away that stuck feeling, and that help us see that we're never alone. These ideas from God don't just comfort us, they do something! Unlike ordinary thoughts, they change our lives and our health for the better and even enable us to help transform the lives of others."
Melanie has her doctorate in mathematics and began her professional work as a college professor. She writes, "There was nothing better than witnessing a reluctant student realize that a previously mystifying concept was actually within reach to anyone." But the higher promise of Christian Science beckoned her to help people redeem and uplift their lives in a fuller way. In 2004, she followed this higher calling and moved to Los Angeles where she started a family with her husband, and became a practitioner of Christian Science healing. She now prays with people all over the world to help liberate and uplift their lives.
"During the lecture, I explore God as Spirit, Love, and Mind, rather than as a man-like figure making arbitrary decisions about our lives. This divine Mind is the one source of all good and true ideas. So God's thoughts remind us of our spiritual identity, guide us to express more love, and show us our divine intelligence."
If you are unable to make the talk on Saturday, Melanie will be giving a similar talk the next day at First Church of Christ, Scientist at 2 pm. Additionally, the Student Center Foundation will be hosting its own Annual Meeting just prior to the talk on Saturday at 11:30 am. Annual Meeting attendees can plan to walk over to the lecture after lunch.
"Never Alone: How Spiritual Ideas Work in Us" is sponsored by the Christian Science Organization, a student organization at the UW Madison.
Never Alone: How Spiritual Ideas Work in Us